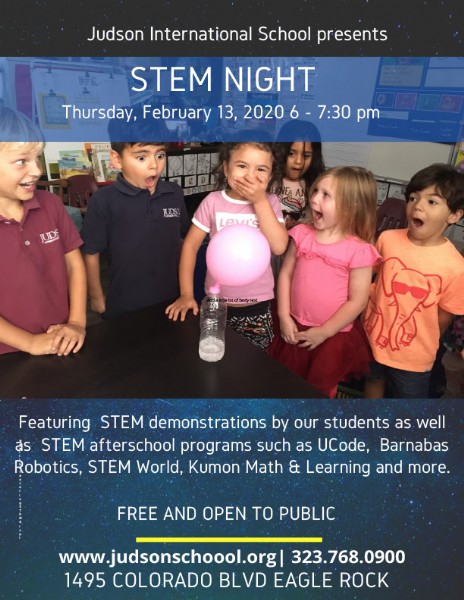 STEM stands for Science, Technology, Engineering and Mathematics. At Judson STEM Night is an opportunity for our students to showcase what one of the best schools in Los Angeles is working on. Not only will we be displaying our own students' projects, but we will also be hosting local STEM organizations who will be bringing rockets, robots and other demonstrations to our school. Exhibitors will include UCode, Barnabas Robotics, STEM World, Kumon Math & Learning and more and many offer after school options if you are interested in learning more.
This event is free and open to the public. Judson's STEM Night takes place on Thursday, February 13, 2020. Dinner will be available for purchase at 5:30 pm, we will have a brief admissions meeting for prospective Judson families at 6:00 pm followed by a program at 6:30 pm in the multipurpose room by our K-4th grade students. K-12th STEM projects will be on display in their classrooms at 7 pm. STEM exhibitors will be doing demonstrations throughout the evening in the multi-purpose room.
Our students' STEM Projects are always creative and interesting. For example, fifth and sixth graders will be dressed as doctors and their classroom will be transformed into a journey through the human body. And that's just the tip of the iceberg. Speaking of icebergs, our kindergartners are eager to show off their Artic projects including what they learned about penguins, icebergs and polar bears. You'll have to come and see us on February 13 to find out more about what we have planned!